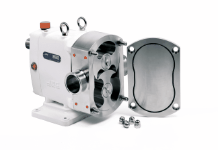 Stainless Steel Pumps & Valves Ltd have more than 41 years experience in the supply and service of all types of hygienic fluid handling equipment, including pumps, valves, heat exchangers, flexible hoses, homogenisers, pipe line fittings and accessories including flexible hoses, gauges and flow meters. SSPV Ltd are the UK distributor for JEC Ltd.
From a base at the centre of the UK, we want to be your first choice for the supply of: Rotary lobe pumps, hygienic centrifugal pumps, liquid ring pumps, Air operated pumps, gear pumps, hygienic valves, flexible hoses etc. We supply from several suppliers including JEC, APV, Alfa Laval, (Ibex & SSP), Inoxpa, Candigra, Wright Flow Technologies, Fristam, Johnson, Stork, ITT, CSF, Hilge, Grundfos, Packo, Ampco, Lowara, Ebara, Blagdon, Bardiani and many many more. Workshop and on site Pump repairs can be turned around in quick time reducing down time saving you money.
We carry both new pump and spare parts including mechanical seal which can all be supplied many from our extensive stock ….
Hygienic pumps are in high demand in many industries. Often businesses are looking for quality pumps that are made of stainless steel for hygienic purposes. That's why here at Stainless Steel Pumps and Valves Ltd, we aim to provide our customers with an excellent range of hygienic pumps and spare parts.
As the UK distributor for JEC Ltd, we can provide a wide range of JEC's range of hygienic rotary lobe pumps for immediate delivery. Manufactured from 316L stainless steel, our pumps are available either in bareshaft form or mounted on a stainless steel baseplate with drive units to suit your individual requirements. We can also provide The ZP range of hygienic circumfential piston pumps with rotors in W88 non-galling alloy. The Acculab range of hygienic rotary lobe pumps are suitable for metering, dosing and filling machine applications.
In addition to our hygienic rotary lobe pumps, we are also proud suppliers of hygienic centrifugal pumps from the JEC range that can be purchased in JP, JEP or JCP models. These high efficiency pumps consume low power, produce minimal amount of noise and are also very easy to maintain. They also come in a fully hygienic design with single and double mechanical seal options available.
Most of our hygienic pumps are designed and certified to meet industry standards including EHEDG, 3A and FDA and are suitable for a vast array of industries including food, drinks, pharmaceuticals, cosmetics, printing, chemical and many others. If you cannot find the exact type of hygienic pumps you are looking for, please do not hesitate to get in contact with us.
Hygienic Butterfly Valves
Hygienic butterfly valves are much sought-after pieces of equipment in several industries. Just a few of the industries that use these valves include businesses in the food, dairy, breweries, soft drinks, pharmaceutical, and toiletry industries. It's for that reason, that we are proud to provide our clients with a fantastic choice of hygienic stainless steel valves here at Stainless Steel Pumps and Valves Ltd.
We stock an enormous range of stainless steel hygienic butterfly valves manufactured from one piece forgings. These are all sourced from leading manufacturers such as APV, Alfa Laval, Candigra, Tuchenhagen, K & H, Inoxpa, AWH, CSE and Nacardo. Our valves are available from 1″ to 6″ (25mm to 150 mm) in size with a range of different hygienic connections, valve seats, actuators and control tops to suit your individual requirements.
Some of the specific valves we stock include hygienic ball valves, which can be purchased with a manual handle or a pneumatic actuator, non-return valves of clamp and screw type, and pressure relief valves capable of handling pressures up to 10 bar. Our valves are available in single or double seat form. All our valves are made of corrosion-resistant AISI 316 stainless steel, making them ideal for any industry.
All our hygienic butterfly valves are designed and certified to meet industry standards including EHEDG, 3A and FDA. We pride ourselves on being an independent supplier capable of obtaining valves from manufacturers across the world. If you are looking for a specific type of hygienic butterfly valve, please do not hesitate to let us know today.
Here is a current list of PUMP's and Valve that we REPAIR:
Inoxpa, Candigra, Waukesha, Alfa Laval (SSP & Ibex), JEC, APV, Pasilac, Fristam, GEA, Hilge, ITT jabsco, Stork, JP Pumps, Johnson UK, CSF, Midland Dairy, DPL, etc.