NEW: SSPV can now supply drop in replacement pumps to directly replace you APV CL (CLEANLINE) pump, Waukesha Universal 1 and 2, IBEX MOG 2020 without the need to change your pipework or baseplate assembly.
SSPV are an independent supplier and can therefore supply equipment from many suppliers from around the World, if you do not see what you are looking for please do not hesitate to ask.
SSPV Positive Displacement Rotary Lobe Pumps by JEC
Stainless Steel Pumps and Valves Ltd are the UK and Irish distributor for JEC Ltd, We carry pumps and spares from stock for immediate delivery including ZL rotary lobe pumps both bareshaft and mounted on stainless steel baseplate, we also have available hygienic centrifugal pumps from the JP range.
SSPV Hygienic Rotary Lobe Pump From JEC, Designed for Today's Demands
Popular pump sizes in stock for immediate delivery
Designed and certified to meet EHEDG, 3A and FDA standards.
Manufactured from 316L stainless steel.
Now with stainless steel gearbox as option
Crevice free internal contact area.
Front loading mechanical seals.
Bi wing rotors as standard with other forms optional including tri lobe
Fully cleanable in place (CIP) and Sterileable in place. (SIP).
Shaft seals matched to each application.
Port sizes from 1″ to 6″.
Many standards of end connections – RJT, IDF/ISS, Clamp, DIN 11851, SMS, Danish Standard, flanges etc.
Pumps can be supplied bareshaft or mounted on stainless steel baseplates with drive units to suit individual requirements.
JEC Acculab hygienic rotary lobe pumps
Suitable for metering duties,dosing and filling machine applications.
FDA and EHEDG certified.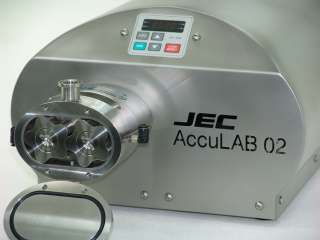 JEC - ZP Range of Circumferential Piston Pump Waukesha U Series drop in Replacement
Special construction for EHEDG standards
NEW JEC ZP Series has been certified to EHEDG by TUV German.
It is the most reliable CP pumps in the world for Clean-in-place (CIP) capability.
No-need for CIP holes to channel CIP flow.
The new design increases maximizes efficiency even for transfer of thin fluids and CIP solutions.
Reduced power consumption because of maximized efficiency with longer sealing paths.
Special price for profitability
ZP Series can save your substantial costs compared to the competitors.
Wetted parts in SS316L with WM88 alloy rotors as standard on all models to meet the stringent GMP standards
316L stainless steel rotors are optional for further cost saving.
The gearbox is stainless steel as standard, painted gearbox as option
Standard stainless steel gear box is long lasting with rust-prevent and paint-free.
Precision investment casting for the gear box gives a smooth even surface
Special dimension to easy drop-in to replace
Waukesha U models, with critical dimensions equivalence to Waukesha pump to enable replacement easily without additional works in the field.
Hydraulically the same for ease of replacement with minimal changes..
Smart maintenance due to ideal "FLS" design and external shimming
"FLS"(Front Loading Seal) enables to simply change mechanical seals without the removal of the rotor case or pipe work.
Tungsten carbide seal ring as standard for longer seal life.
External shimming located between gearbox and casing makes easy fitting of rotor clearance = less downtime.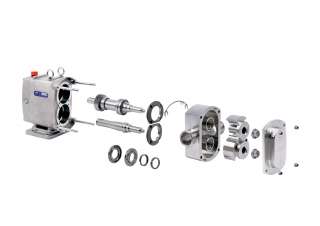 SSPV Hygienic Centrifugal Pump from JEC
High efficiency with low power consumption.
Fully hygienic design and CIPable, JCP & JEP Certified to EHEDG, 3A and FDA.
Low NPSH requirements.
Low noise.
Easy maintenance.
One size mechanical seal throughout the range.
Single and double mechanical seal options available, with seal face and elastomer options to suit most applications.
Flowrates to 100,000 litre / hour.
Discharge heads to 8 bar.
IEC standard motors for increased flexibility.
Popular pump sizes in stock for immediate delivery
Most end connections available to suit including – RJT, IDF, SMS, Clamp, DIN 11851, BSP, flanges and many others

Typical industries served: Food, Dairy, Brewery & Soft drinks, Pharmaceutical, Cosmetic, & Personal Care, Confectionery, Printing, Chemical and many others.
SSPV Hygienic Liquid Ring Self Priming Pumps
HYGIENIC CENTRIFUGAL LIQUID RING – MODEL JEPS. SIDE CHANNEL LIQUID RING PUMP MODEL JSZ
High efficiency.
Suitable for use with liquid with high air content making it ideal as a CIP return pump.
Low power consumption.
Low noise levels.
Minimal maintenance.
Maximum pressures to 4.0 bar.
Maximum capacities to 50,000 litres per hour.
IEC motors for increased flexibility.
Most end connections available to suit including – RJT, IDF, Clamp, SMS, DIN 11851, BSP, Flanges and many more.

Typical industries served: Food, Dairy, Brewery & Soft drinks, Pharmaceutical, Cosmetic, & Personal Care, Confectionery, Printing, Chemical and many others.
Typical products include milk, edible oils, chocolate, sugar syrups, glucose, egg products, chemicals, solvents etc.
Easy to install and maintain
EHEDG & 3A approved
Suitable for both low and high viscosity
CIPable, EHEDG Certified
Close coupled and long coupled versions available
Serviceable from the front without removal of pipe work
Balanced mechanical seal
Mechanical seal combinations to suit differing duty conditions
Low shear action
Mirror finish available to 0.4 RA
Maximum pressure 15 bar
Maximum capacity 68,000 litre/hour
Typical industries served: Food, Dairy, Brewery & Soft drinks, Pharmaceutical, Cosmetic, & Personal Care, Confectionery, Printing, Chemical and many others.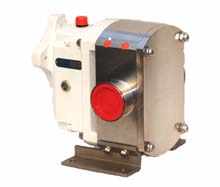 JS Range of Filling Machine and Depositor Pumps
Stainless steel gear pump for filling machines. Directly interchangeable with king fillers and Ibex MOG 200 Series pumps.
Manufactured from 316 stainless steel.
Gears made from non galling alloy.
PEEK gears also available
Easy strip for fast cleaning for line changes.
End connections to suit most standards including RJT, IDF, SMS, Clamp, BSP, Din 11851.
Available with close coupled drive units.
High temperature option available.
Models JS110, JS120, JS130, JS140
Mixers and High Shear Blenders
Hygienic Shear Blending Systems
Centrifugal and High Shear Mixers for rapid mixing of liquids and powders, reducing batch times – saving time and money.
JEC hygienic shear blending systems can handle simple and demanding applications to blend, emulsify, disperse, dissolve and homogenize a wide variety of products. The unique impeller-vane and inducer design enables quick dissolution and hydration of any fluids requiring sensitive shearing. Matching the impeller-vane design with the fluid shear rate makes the blending systems very efficient and rapid in operation, resulting in quality output and reduced mixing times.
Port Size: 1.1/2″ to 3″m
Max. Flow Rate: 1500 l/m
Max. Discharge Pressure: 8 bar
Max. Fluid Temperature: 140°C
Construction Materials: Stainless Steel.
Applications: Suitable for skim milk, formulated toppings, puddings, sauces, ice-cream mix, sugar blending, salad dressings.
Hygienic Rotary Piston Pump (Waukesha, Wright)
Pumps and spares parts fully interchangeable with Waukesha models.