Liquid - Powder High Shear Blenders
Centrifugal and High Shear Mixers for rapid mixing of liquids and powders, reducing batch times – saving time and money.
JEC hygienic shear blending systems can handle simple and demanding applications to blend, emulsify, disperse, dissolve and homogenize a wide variety of products. The unique impeller-vane and inducer design enables quick dissolution and hydration of any fluids requiring sensitive shearing. Matching the impeller-vane design with the fluid shear rate makes the blending systems very efficient and rapid in operation, resulting in quality output and reduced mixing times.
Port Size: 1.1/2″ to 3″m
Max. Flow Rate: 1500 l/m
Max. Discharge Pressure: 8 bar
Max. Fluid Temperature: 140°C
Construction Materials: Stainless Steel.
Applications: Suitable for skim milk, formulated toppings, puddings, sauces, ice-cream mix, sugar blending, salad dressings.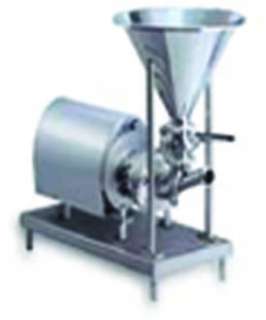 Liquid - Powder Impeller Low Shear Blenders
Propeller Type Top Entry Propeller Agitators and Protable Agitators